For this shoot we had 4 of the sweetest and funniest guys on set, Twilight actors Alex Meraz, Bronson Pelletier, Guri Weinberg and Michael Welch. I came up with "the boys next door" theme and thought it was perfect for this shoot. And now looking through the spread, I love how each of them bring a different meaning/sense to the title. You can see their true personalities come through within the theme. Love that!
We shot at my lovely friend Jacque Saladino's showroom in downtown LA, and had a really fun crew booked for the shoot. It was a crazy hot August day in Los Angeles… 100 degrees to be exact! Poor guys were all dressed in suits and fall clothing. We spent a few hours suffering through the heat creating some cool images for the Fall issue of Zooey Magazine. This was my last job as part of the Zooey team.
"To call it a phenomenon is an understatement." Stephanie Meyer's Twilight has become one of the highest-grossing movie franchises of all time, with the final chapter still to come in 2012. (Which I cannot wait to see!).
We have loved Mike Newton (Michael Welch's character) since his introduction in the first movie of the saga, Twilight. Described as a "cute, baby-faced boy with carefully spiked pale blond hair", Mike is a friendly human boy who develops a crush on Bella (Kristen Stewart), later dating Jessica (Anna Kendrick).
Alex Meraz's character, Werewolf Paul Lahote, was introduced in the second installment of the saga, New Moon. Paul is prone to angry outbursts which often cause him to change into his wolf form.
Bronson Pelletier's character, Werewolf Jared Cameron, personality is never throughly explored in the books, which opened up an opportunity for Bronson to bring his own light-hearted and fun personality into the mix. Jared was also introduced to the story in New Moon.
Guri Weinberg plays Stefan, a vampire from the Romanian Coven, introduced in the last installment of the saga: Breaking Dawn, part 2. His greatest enemy is the Volturi, which leads him to show up uninvited to the Cullen house hoping that the controversy caused by Renesme (Mackenzie Foy) will finally present him with the opportunity to destroy his enemies.
And to finalize, my Brazilian self must make note of a cool factor of the day… The fact that Alex practices Capoeira, has been to Brazil (a town right next to mine actually!!!) and speaks some portuguese. Really really cool! Ok geeky moment over!
Enjoy!
Below are a few of my favorite shots, not published in the spread.
Here is a glimpse of what went on during our shoot: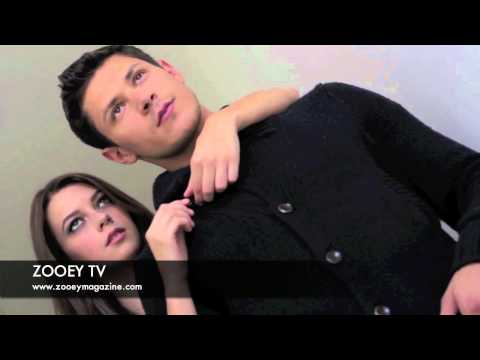 Producer and Photography: Amanda Elkins
Photography assistants: Alex Levine and Michelle Chang
Make up: Kristina Goldberg
Hair: Christina Guerra For Tigi (Celestine Agency)
Wardrobe: Lyndzi Trang
Wardrobe assistant: Jacqueline Nguyen
Videography: Austin Farmer
Models: Brett and Breana (Pinkerton Model and Talent)
Location: Something Creative Showroom
~A